Using ICT to Teach Linguistic Competences in a cross-disciplinary context (ITeLiCo) (Edición especial) UNED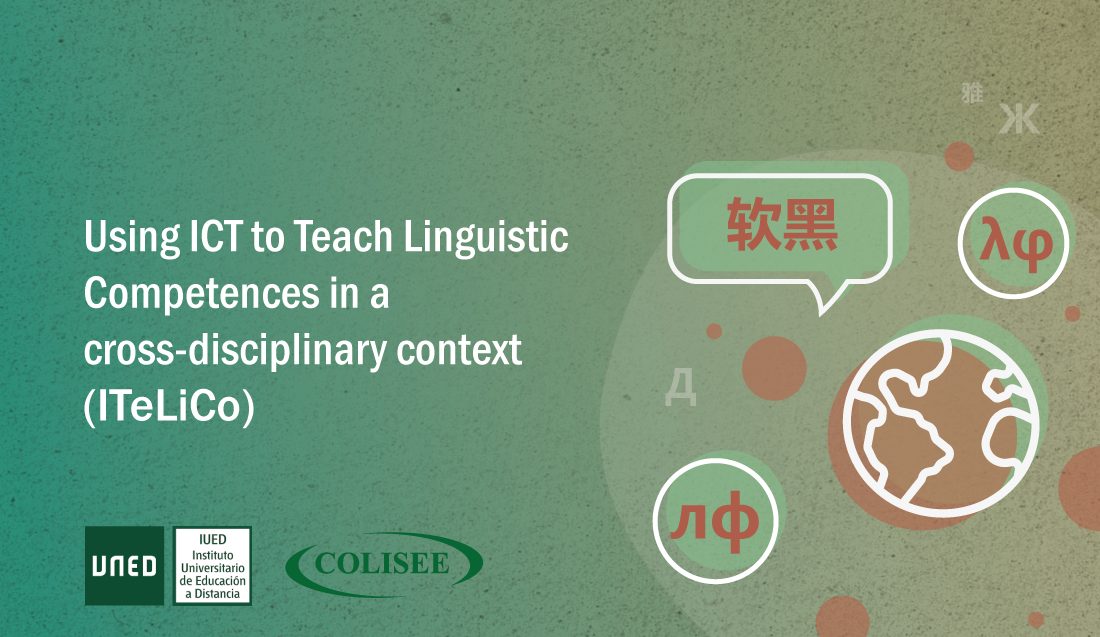 Using ICT to Teach Linguistic Competences in a cross-disciplinary context (ITeLiCo)
The training activity "Teaching Linguistic, Intercultural and Entrepreneurial Competences in a cross-disciplinary ICT context", is developed in the frame of the European ERASMUS + Project COLISEE (COmpétences Linguistiques et Interculturelles au Service des Entreprises en Europa = Linguistic and Intercultural Competences at the service of European Companies). The project is led by the University of Montpellier (France). UNED (Spain) is one of the partners, and the promoter of this training initiative.
This course is considered nuclear; the remainder are considered specific. Some suggestions for participation:
Completion of the four courses, in the order listed, to obtain the certificate of participation.
Completion of the first course and one of more of the specific courses. A certificate of participation will be obtained for each of the taken courses.
At this time, you can read information about Using ICT to Teach Linguistic Competences in a cross-disciplinary context (ITeLiCo)
Public
Unlimited number of teachers. Aimed at teachers interested in teaching their courses in other languages.
Recruitment procedures
Teachers from all disciplines interested in knowing how to improve their linguistic competences to teach and communicate with others in a foreign language.
Professor
María Jordano de la Torre. Facultad de Filología. UNED. Spain
Objectives
Learn how to recycle yourself in the use of language for specific purposes an academic and professional context
Acquiring some techniques to use an L2 in your own subject
Contents
Módule 1 .Working on spoken skills online

Productive use of the language
Receptive use of language

Módule 2. Working on written skills online

Productive use of language

Receptive use of language
Metholodogy
All the contents have been planned for self-study,with the help of audiovisual complementary material
Portada del curso
Aarón Mora Martín
[L] LinkedIn
[w] http://aaron-mora.com/