The Language of Wines: English for Wine Experts and Lovers (3ed. 2023) UNED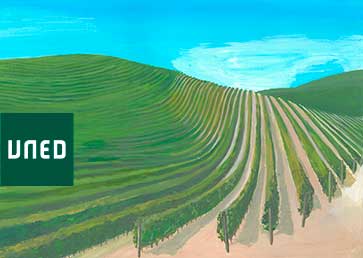 This is an intermediate English course for wine experts. The knowledge about how the wine is created that such experts have is used as a starting point for the course design. Working on this knowledge the course focuses on exploring and expanding both oral( listening and speaking) and written (reading and writing) skills, depending on the student's level of English. Specific vocabulary referring to the description of the vine plant, the process of wine making and the description of wine tasting is first revised and then developed with new terms. Those aspects of grammar that are needed in relation with such lexical areas of knowledge are particularly explained and emphasized.
Área de Conocimiento
Lenguas
Objetives
Conseguir que los expertos o buenos conocedores del mundo del vino empleen sus conocimientos sobre ello para mejorar su inglés.
Ser capaces de presentar oralmente un vino de su elección.
Ser capaces de explicar oralmente algún aspecto específico de su elección como sus características organolépticas o su precio.
Ser capaces de redactar un resumen sobre un vino de su elección enfocándolo en una selección de aspectos que permitan diferenciarlo de otro vino igualmente de su elección.
Course contents
Module O. INTRODUCTION TO THE COURSE

First module. INTRODUCING PEOPLE AT THE VINYARD
In the first module, we will meet people working at a vineyard. We explain how we are going to approach grammar in this course.
And we will refresh how to introduce and greet people in formal and informal ways.
Meeting a wine expert at the vineyard.
Meeting people working at the vineyard and the wine business.
Second module: PRODUCING WINE. THE VINE PLANT AND THE VINEYARD.
In this second module, we will study the better  types of soils  for the vine plant to prosper  and  where in the Earth  the vine plant grows. 
We'll also learn the different parts of the vine plant and their function in the production of wine.
Finally, we'll study a selection of the most popular types of grapes.    
As for grammar, we will concentrate on how to describe things in English and how English nouns are used to name both material and abstract things.  We'll also revise  some basic and technical vocabulary
Types of soils.
Where the  vine plant  grows:  altitude and latitude.
The vine plant.
Types of grapes.
Third module: PRODUCING WINE. FROM HARVEST TO CELLAR.
In this module we learn  about white and red wines making.
From the grammar point of view, we revise how to express a sequence of actions
and how the English verb system captures the idea of time sequence. We will also see how adverbs describe this actions and processes.
The wine making process I: harvesting and crushing.
The wine making process II: the fermenting stage.
The wine making process III: the aging stage.
Fourth module: WAYS OF DESCRIBING WINES
Finally in the fourth module, we concentrate on how to put  into words the wine tasting experience.
Unit 11. Tasting wines I. Flavours and mouthfeel.
Unit 12. Tasting wines II. We smell aromas.
Requisitos recomendados
Es recomendable un nivel elemental superior o intermedio, es decir, un mínimo de un B1 del Marco Común Europeo de Referencia para las Lenguas (2002).
Público objetivo

Enólogos, viticultures, comerciales de bodegas, y aficionados a la cata de vinos.
Metadatos
Wine, English course, viticulture, oenology, wine tasting, wine description, wine promotion