Inglés Profesional / Professional English (4ed) UNED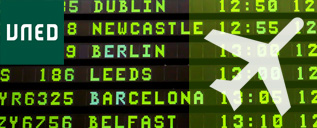 El curso
El curso Inglés Profesional / Professional English obedece a una gran demanda formativa del inglés que se usa en el entorno laboral y social. El horizonte profesional se presenta cada vez más internacional y es fundamental que los miembros de nuestra sociedad puedan proyectarse como hablantes competentes de inglés en el ámbito de su profesión. Para ello se ha preparado un curso abierto de nivel intermedio que ofrece una forma eficaz y flexible la práctica de capacidades comunicativas que necesita el profesional de hoy. ¡Nueva edición! Incluye tareas (p2p) para la mejora de la destreza escrita (writing), repaso gramatical tutorizado y presentación de vocabulario técnico.
EL EQUIPO DOCENTE
El equipo docente del MOOC Inglés profesional/Professional English tiene amplia experiencia en la enseñanza de lenguas extranjeras (en especial la lengua inglesa) con apoyo tecnológico. Pertenecen al grupo de investigación ATLAS (Applying Technology to LanguageS) y al Grupo de Innovación Docente GLOBE (Group for Languages in Open and Blended Environments).
Objetivos
El modulo 1 se centra en el proceso de la búsqueda de empleo. los objetivos concretos del módulo son:
- Ser capaz de realizar preguntas y respuestas sobre tu situación profesional actual.
- Extraer información de un anuncio de trabajo.
- Saludar y despedirse correctamente en el contexto profesional.
- Familiarizarse con las expresiones propias de cartas/e-mails profesionales.
- Aprender a completar una solicitud de empleo.
El módulo 2 muestra la rutina diaria en una oficina. Los objetivos del módulo son:
- Identificar vocabulario y estructuras relacionados con el mundo de los negocios.
- Describir la estructura de una oficina y los objetos cotidianos en ese contexto.
- Identificar las principales profesiones relacionadas con los negocios.
- Describir rutinas propias del mundo de los negocios.
El módulo 3 trata de aspectos más personales, y cómo comunicar en tu entorno personal y familiar noticias relacionadas con la esfera profesional. Los objetivos específicos del módulo son:
- Intercambiar información sobre aspectos personales y familiares.
- Dar órdenes.
- Realizar descripciones de la apariencia física de lass personas.
- Describir la personalidad de las personas.
Temario
Module 1 Looking for a job is a full-time job
Module 2. The first day at IBS
Module 3. A new milestone in Peter´s life
Requisitos recomendados
El único requisito previo para la realización del curso Inglés Profesional / Professional English es que los estudiantes tengan un nivel intermedio de inglés general de partida.
Al iniciar el curso el usuario podrá realizar un test de diagnosis, no evaluable, que le ayudará a medir su nivel de inglés general.
Público objetivo
Cualquier persona interesada.
Twitter