Geo Tools for Teachers (4ed. 2023) UNED

About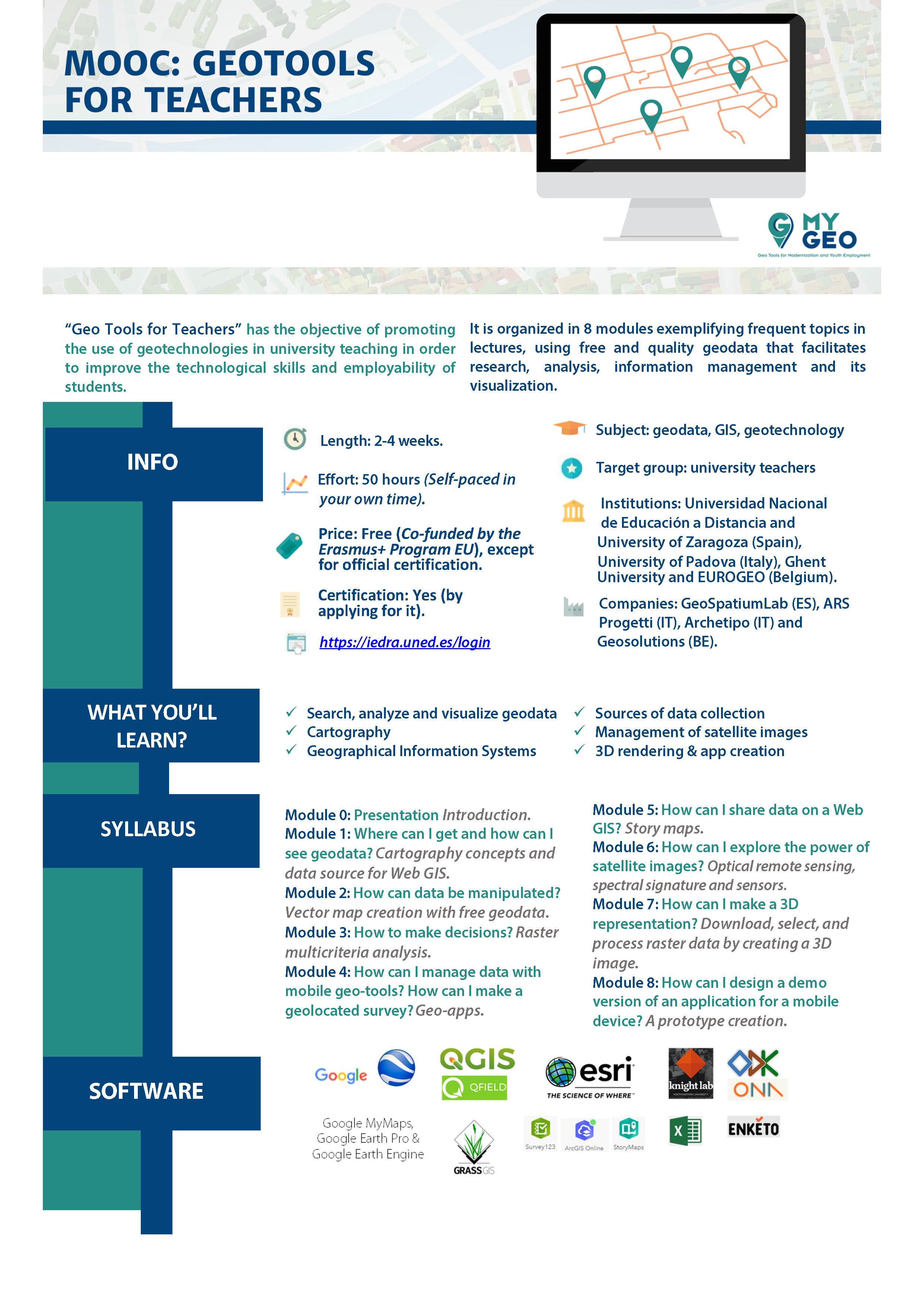 Target Group
University and university college teachers.
Objectives
- Promote the use of geotechnologies in university teaching in order to implement the technological students skills.
- Facilitate University teaching examples, using free and quality geodata that facilitate research, analysis and information management and its visualization.
Project web page: https://www.mygeoproject.eu/.
Requisites
There are no necessary.
Assessment
It will be a test at the end of any module. Two questionnaires, one initial and one final after following all modules, is also a mandatory requirement to obtain the course certification.
Staff
Maria Luisa de Lázaro y Ramón Pellitero Ondicol (UNED)- Directores
Massimo De Marchi, Università di Padova (UNIPD)
Danielle Codato (UNIPD)
Alice Morandi (UNIPD)
Rafael de Miguel González, University of Zaragoza (UNIZAR)
María Sebastián López (UNIZAR)
María Zúñiga Antón (UNIZAR)
Luc Zwartjes, Ghent University (UGENT)
Bart De Wit (UGENT)
David Cocero Matesanz (UNED)
Julio Fernández Portela (UNED)
Julio López-Davalillo (UNED)
Deva Menéndez García, UNED student and internship in GeoSolutions (Ghent, Belgium)
Silvia Ferrer Castillón, UNED student and internship in GeoSolutions (Ghent, Belgium)
Francisco José Morales Yago (Universidad de Murcia)